The interdisciplinary Graduate Degree Program in Cultural Expressions and Processes focuses on promoting advanced studies which are directed towards cultural expressions and processes. These studies are justified due to the importance that historical backgrounds and aesthetic reflections – viewed as part of founding memory that has come about through actions of communication, enunciated in different languages – assume in the constitution of national ,regional and collective identities, characterizing the field of concentration, named Cultural Expressions and Processes, whose interdisciplinary vision allows dialogs and associates the specific knowledge of history, communication and literature and that finds a complementary contribution in philosophy and arts.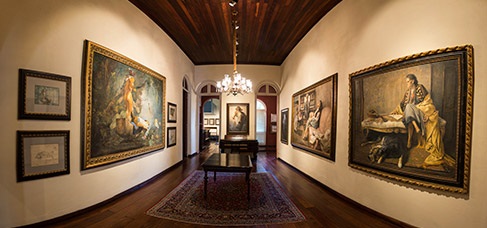 Field: Cultural Expressions and Processes
The concentration investigates, by an interdisciplinary perspective, conceptions of culture, linking them to social and historical transformations. The focus on processes and cultural events connected with the relations among History, which reconstructs contexts, Literature and Arts, which is concerned with discursive production as Aesthetic Act of Language, and the area of Communication, which emphasizes the way how communicative processes are installed, besides seeking the fundamentals in the context of Anthropology.
Objectives
To train investigators that, through the cooperation and the coordination among history, communication, literature and other art areas, are able to contribute to the interdisciplinary development of the scientific knowledge in the cultural context.
To constitute an area of interdisciplinary knowledge that contributes to the production of knowledge and to the qualification of teaching practice;
To promote training of teachers and other professionals who will be able to intervene positively in society due to their critical understanding of cultural expressions and processes and their resonance in the social environment ;To qualify researchers so that, by articulating methodological and theoretical matters, they can transfer concepts and innovative practices into specific areas.
Target audience
Professionals in the areas of History, Literature, Arts, Communication, Fashion, Gastronomy and other areas that mediates diffusion and critical reflection about Culture and its manifestations.
Areas of Expertise and Professional Profile
The Graduate Degree Program in Cultural Expressions and Processes, through its areas of expertise, fields of research and its objectives is aimed at forming researchers and professional with the competence to:


Respond to the advances of interdisciplinary knowledge demanded by our technological society that, nevertheless, cannot ignore the relevance of interrelations between Human Sciences and Social applied sciences, predominantly those concerning History, Communication and Languages.
Recognize the complexity of cultural processes and manifestations and be able to present actions that are capable of fomenting the reconciliation and social interaction of individuals.
Help individuals, groups and communities to become aware of the need to recognize, comprehend and value their cultural assets, both locally and regionally, through educational actions.
Qualify the practices connected to journalism, advertisement, public relations, audiovisual production and cultural production so that these areas may attend to a higher level of critical acuteness respecting the multicultural aspects of our society.
Act as a mediator between the community and the people responsible for policies addressed to cultural assets, with the intent of promoting the preservation of cultural manifestations and their access to the population.

These researchers must be able to commit themselves with an ethical conduct when facing the processes and cultural manifestations in their professional areas.
Background
The Graduate Program in Processes and Cultural Manifestations started with the Academic Master's Degree, recommended by CAPES through Official Letter No. 31-21 / 2009 / CTC / CAAIV / CGAA / DAV / CAPES. The Course implemented its academic activities in March 2010, with culture as the thematic focus. In the three-year evaluation, in 2013, the Masters Program received a score of 4, which motivated teachers to conceive the Doctorate proposal, and was approved at the meeting number 156, CTC, on March 1, 2015.
The program was born from the articulation of the following research groups: Culture and memory of the community; Communication and culture; Languages and cultural manifestations. By engaging the areas of History, Communication and Literature, with added contribution of related areas, the Master's and Doctoral courses absorbed the knowledge attained by researchers in their study groups, which addressed, among others, the following themes: memory, identity constitution, communication processes, different media roles, textual production from digital resources, production processes and aesthetic languages reception. These themes were grouped around a centralizing nucleus: Processes and Cultural Manifestations, which became the Master's Program area of emphasis.
The Program's consolidating efforts are emphasized in interdisciplinary conception expansion; in revising disciplines whenever necessary; in the search of articulation between professors and students' researches with the Program's lines of research; in professors and students' efforts to carry out research and disseminate their results; in the search for interaction with the external community and visibility for the Program, through the hosting of events and extension projects; in strengthening initiatives to promote integration with graduation and basic education; in the implementation of actions focused on internationalization; in emphasizing the training of qualified human resources. These actions contributed to the achievement of the Program's objective, which aims to develop advanced studies in the scope of cultural processes and manifestations, that subsidizes knowledge production, human resources training, teaching practices improvement and researchers qualification.
Fields of Research
Memory and Identity
This field has as object of investigation manifestations and cultural processes, as well as the social tensions that are revealed on the representation of memory and identities, from the affiliation and articulation between History, Communication, Language and Literature, with the contribution of areas such as Philosophy, Anthropology and Art. It contemplates the following topics: quotidian, memory and identity, the construction process of identities from the point of view of different media; the relation between biographical, historical, journalistic and literary narratives. Its goal is to form researchers that make use of interdisciplinary methodologies to reflect upon the constitution of memory and identity, applying multiple sources and that are committed with the production and dissemination of knowledge.
Languages and communicational processes
This field explores culture and its manifestations focusing on the communicational process and its institutionalization. It delves into the way different languages – contemporary media, information technologies and aesthetic communication – produce the canon of cultural processes and phenomenon, considering the relations between production, distribution and consumerism. It discusses the way in which cultural products translate symbolic and discursive fields, and how, as a result to these experiences, they contribute to the construction of memory and identities. This field focuses on the following topics: media and literary manifestations, the particularity of their language and the possible articulation to each other; the social-historical contextualization of cultural processes, by the perspective of literature, cinema, media communication, technology and art. Its goal is to form professionals that are able to use an amalgamative perspective, and by doing so, being fit to comprehend the dynamics of culture, language and communication, moreover, that these professionals are competent to position themselves critically about cultural processes and manifestations.
Education languages
This research line correlates language studies with culture, investigating linguistic and literary foundations, in order to qualify researchers in their socio-educational practices. From this angle and through the use of technological resources, the following issues are highlighted: process of construction and reception of texts of various genres, studies of discourse, literature and national identity, reader formation.
Coordination committee
Coordinator: Daniel Conte.
Substitute Coordinator: Juracy Ignez Assmann Saraiva.
Faculty representative:
Ernani Cesar de Freitas.
Faculty representative:
Sarai Patricia Schmidt.
Faculty representative:
Claudia Schemes.
Master's Student Representative: Fernanda Rodrigues da Silva.
Doctoral Student Representative: Débora Wissmann.
Doctoral Student Representative:
Jenifer Panizzon.
Self-evaluation Committee
Teaching Representative: Juracy Ignez Assmann Saraiva, Magna Lima Magalhães, Daniel Conte, Cláudia Schemes, Saraí Patrícia Schmidt e Fernando Simões Antunes Junior
Admnistrative Technician Representative: Agathe Juliane Erig Sebastiani.
PhD
PNPD/CAPES Scholarship
The PNPD is an institutional policy that finances post-doctoral stages in Stricto Sensu Graduate Programs recommended by CAPES and aims to promote high-level studies, strengthen national research groups, renew cadres in the Post-Graduate Programs higher education and research institutions, and encourage Brazilian and foreign researchers to enter the Postdoctoral stage, stimulating their integration with research projects developed by Graduate Programs in the country.